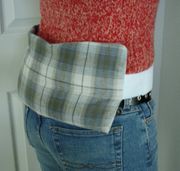 Got lower back pain?



Our new Comfort Carrier is the answer!

Designed to be used with your existing microwavable Comfort Bags, just slip the microwave heating pad into the Comfort Carrier, and wrap around for lower back heat. The adjustable (up to 50" waist) hook and eye closure allows you to walk around with it on, or you can relax in your bed or your favorite chair with that soothing, safe heat in just the right place.

And if it gets soiled, you can slip the microwave heating pad out and wash and dry your Comfort Carrier in the washing machine. It's fully machine washable and dryable. Works best with the Long Comfort Bag or the Comfort Curve size.
All Shipping and Handling is FREE inside the US